General Duty Casters - Series 10
General Duty Caster Features and Options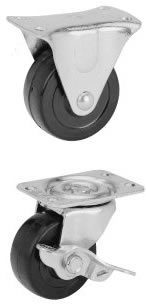 The #10 Series General Duty Casters are zinc plated. Swivel versions contain a single ball bearing raceway with a precision kingpin for thrust absorbtion. Bearing options include roller bearings, Delrin bearings, precision bearings, ball bearings, sleeve or plain bearing, and no bearing. Brake options available.
Call 1-888-904-9531 for more details and ordering.
Common applications include dollies, parts bins, portable storage racks, bakery racks, food service operations, and rolling tool boxes. Great for any general duty task.
Top plate dimensions.
Size
Bolt Inside
Bolt Outside
Bolt Inside
Bolt Outside
2
2-1/2
3
4
1-7/8x2-9/16
2-3/4x3-7/8
3-1/8x4-1/8
4x5
15/16x2-1/8
1-3/4x3
2-3/8x3-3/8
3x4
1-1/2x2-21/32
2-1/4x4-7/16
2-1/4x5-1/8
3-1/4x6-1/4
15/16x2-1/8
1-1/16x3-1/2
1-3/16x4
1-3/4x5
Diameter
Width
Wheel
Material
Capacity
lbs
Load
Height
Swivel
Number
Swivel
Weight
Rigid
Number
Rigid
Weight
Bearing
Type
Soft Rubber
90
NCC-10S210-SRS
0.45
NCC-10R210-SRS
0.33
Plain Bore
2"
15/16
Hard Rubber
125
2-7/16
NCC-10S210-HRS
0.45
NCC-10R210-HRS
0.33
"
Sintered Iron
125
NCC-10S210-SIS
0.50
NCC-10R210-SIS
0.40
"
Polyolefin
90
NCC-10S210-POS
0.45
NCC-10R210-POS
0.33
"
Diameter
Width
Wheel
Material
Capacity
lbs
Load
Height
Swivel
Number
Swivel
Weight
Rigid
Number
Rigid
Weight
Bearing
Type
Soft Rubber
100
NCC-10S2510-SRS
1.00
NCC-10R2510-SRS
0.73
Plain Bore
2-1/2"
1-1/16
Hard Rubber
175
3-1/4
NCC-10S2510-HRS
1.00
NCC-10R2510-HRS
0.73
"
Sintered Iron
200
NCC-10S2510-SIS
1.15
NCC-10R2510-SIS
0.98
"
Polyolefin
175
NCC-10S2510-POS
0.90
NCC-10R2510-POS
0.63
"
Diameter
Width
Wheel
Material
Capacity
lbs
Load
Height
Swivel
Number
Swivel
Weight
Rigid
Number
Rigid
Weight
Bearing
Type
Soft Rubber
150
NCC-10S314-SRS
1.98
NCC-10R314-SRS
1.98
Steel Sleeve
Hard Rubber
275
NCC-10S314-HRS
1.98
NCC-10R314-HRS
1.98
Steel Sleeve
Polyolefin
275
NCC-10S314-POS
1.54
NCC-10R314-POS
1.54
Plain Bore
3"
1-1/4
Solid Polyurethane
250
3-5/8
NCC-10S314-SPUS
1.98
NCC-10R314-SPUS
1.98
Steel Sleeve
Semi Steel
275
NCC-10S314-SSS
2.20
NCC-10R314-SSS
2.20
Plain Bore
Phenolic
275
NCC-10S314-PHS
2.00
NCC-10R314-PHS
1.90
Plain Bore
Sintered Iron
250
NCC-10S314-SIS
2.20
NCC-10R314-SIS
2.20
Plain Bore
Diameter
Width
Wheel
Material
Capacity
lbs
Load
Height
Swivel
Number
Swivel
Weight
Rigid
Number
Rigid
Weight
Bearing
Type
Soft Rubber
200
NCC-10S414-SRS
3.08
NCC-10R414-SRS
3.08
Steel Sleeve
4"
1-1/4
Hard Rubber
300
5
NCC-10S414-HRS
3.08
NCC-10R414-HRS
3.08
Steel Sleeve
Semi Steel
400
NCC-10S414-SSS
4.40
NCC-10R414-SSS
4.40
Plain Bore