Medium Heavy Duty Stainless Steel Casters #30 Series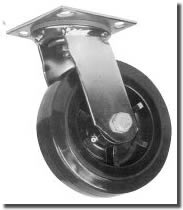 Our medium to heavy duty stainless steel casters feature a 100% washable design with #304 stainless steel construction throughout the entire caster, including the 1/2" precision kingpin and 1/2" axle and lock nut. Also feature a double stainless steel ball bearing raceway, with grease seals in the upper raceway.
Applications for Stainless Steel Casters
Medium to heavy duty total lock casters can be used in a wide variety of applications, including:
Washdown Environments
Food Service Carts and Food Processing
Hospital and Pharmaceutical Carts
Laboratory Equipment
Stainless Steel Caster Options
Stainless steel casters in series 30 are available with optional WB Cam Brake.
Bearing Options
Bearing options are available, and can increase the performance of the caster when properly matched to a specific application or use.
Roller Bearing
Delrin
Precision
Ball Bearing
Sleeve or Plain Bearing
No Bearing
| | |
| --- | --- |
| | |
| Inside Bolt Pattern | Outside Bolt Pattern |
| 4x4-1/2 | 2-5/8x3-5/8 TO 3x3 |
Diameter
Width
Wheel
Material
Capacity
lbs
Load
Height
Swivel
Number
Swivel
Weight
Rigid
Number
Rigid
Weight
Bearing
Type
Phenolic
600
NCC-SS30S420-PHR
6.25
NCC-SS30R420-PHR
3.82
Roller
Polyolefin
450
NCC-SS30S420-POR
5.08
NCC-SS30R420-POR
3.83
"
4"
2
Polyurethane on Polyolefin
600
5-5/8
NCC-SS30S420-PPUR
3.98
NCC-SS30R420-PPUR
2.83
"
Solid Polyurethane
700
NCC-SS30S420-SPUR
3.98
NCC-SS30R420-SPUR
3.98
"
Rubber on Polyolefin
400
NCC-SS30S420-TPRR
3.98
NCC-SS30R420-TPRR
2.83
"
Cushion Polyurethane on Polyolefin
800
NCC-SS30S420-SCR
3.98
NCC-SS30R420-SCR
2.83
"
Diameter
Width
Wheel
Material
Capacity
lbs
Load
Height
Swivel
Number
Swivel
Weight
Rigid
Number
Rigid
Weight
Bearing
Type
Phenolic
650
NCC-SS30S520-PHR
5.75
NCC-SS30R520-PHR
4.32
Roller
Polyolefin
650
NCC-SS30S520-POR
4.82
NCC-SS30R520-POR
3.19
"
5"
2
Polyurethane on Polyolefin
750
6-1/2
NCC-SS30S520-PPUR
4.82
NCC-SS30R520-PPUR
3.19
"
Solid Polyurethane
1000
NCC-SS30S520-SPUR
4.82
NCC-SS30R520-SPUR
3.19
"
Rubber on Polyolefin
450
NCC-SS30S520-TPRR
4.82
NCC-SS30R520-TPRR
3.19
"
Cushion Polyurethane on Polyolefin
750
NCC-SS30S520-SCR
4.82
NCC-SS30R520-SCR
3.19
"
Diameter
Width
Wheel
Material
Capacity
lbs
Load
Height
Swivel
Number
Swivel
Weight
Rigid
Number
Rigid
Weight
Bearing
Type
Phenolic
650
NCC-SS30S620-PHR
7.5
NCC-SS30R620-PHR
8.5
Roller
Polyolefin
700
NCC-SS30S620-POR
5.08
NCC-SS30R620-POR
4.06
"
6"
2
Polyurethane on Polyolefin
900
7-1/2
NCC-SS30S620-PPUR
5.08
NCC-SS30R620-PPUR
4.06
"
Solid Polyurethane
1200
NCC-SS30S620-SPUR
5.08
NCC-SS30R620-SPUR
4.06
"
Rubber on Polyolefin
550
NCC-SS30S620-TPRR
5.08
NCC-SS30R620-TPRR
4.06
"
Cushion Polyurethane on Polyolefin
900
NCC-SS30S620-SCR
5.08
NCC-SS30R620-SCR
4.06
"
Diameter
Width
Wheel
Material
Capacity
lbs
Load
Height
Swivel
Number
Swivel
Weight
Rigid
Number
Rigid
Weight
Bearing
Type
Phenolic
675
NCC-SS30S820-PHR
7.75
NCC-SS30R820-PHR
8.75
Roller
Polyolefin
800
NCC-SS30S820-POR
5.5
NCC-SS30R820-POR
4.5
"
8"
2
Polyurethane on Polyolefin
1000
9-1/2
NCC-SS30S820-PPUR
5.5
NCC-SS30R820-PPUR
4.5
"
Solid Polyurethane
1200
NCC-SS30S820-SPUR
5.5
NCC-SS30R820-SPUR
4.5
"
Rubber on Polyolefin
700
NCC-SS30S820-TPRR
5.5
NCC-SS30R820-TPRR
4.5
"
Cushion Polyurethane on Polyolefin
1000
NCC-SS30S820-SCR
5.5
NCC-SS30R820-SCR
4.5
"
Diameter
Width
Wheel
Material
Capacity
lbs
Load
Height
Swivel
Number
Swivel
Weight
Rigid
Number
Rigid
Weight
Bearing
Type