Kingpinless Casters #91 Series

Heavy duty kingpinless casters featuring unique hot forged ASTM1045 steel design eliminating problems associated with kingpin failure due to severe shock loading. Top plate and inner raceway are built with an integrally forged construction. Sealed raceway is machined and induction hardened providing exceptionally smooth performance.
This zinc plated kingpinless caster model combats thrust and load in severe enviroments by integrating 1/2" diameter HRC 45 steel ball bearings. Raceway includes notches for 4 position lock, and grease fitting for maintenance.
Applications: Wherever severe shock is anticipated.
Kingpinless Caster Top Plate Dimensions and Bolt Hole Pattern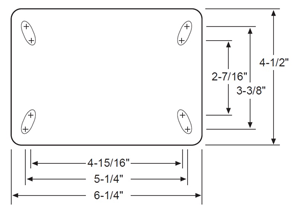 Top plate for kingpinless casters designed to handle multiple bolt patterns.
4 1/2 x 6 1/4 top plate
Bolt hole pattern slotted: 2 7/16 x 4 15/16 to 3 3/8 x 5 1/4
Bolt size: 1/2"
Bearing Options for Kingpinless Casters
Select kingpinless caster wheels have options for wheel bearings. Choose from Tapered, Roller, and Delrin to optimize your application.
Diameter
Width
Wheel
Material
Capacity
lbs
Load
Height
Swivel
Number
Swivel
Weight
Rigid
Number
Rigid
Weight
Bearing
Type
Rubber on Steel
700
NCC-KP91S625-RSR
21.46
NCC-KP91R625-RSR
16.50
Roller
Rubber on Steel
700
NCC-KP91S625-RST
22.46
NCC-KP91R625-RST
19.21
Tapered Bearing
Polyurethane on Steel
1600
NCC-KP91S625-PUR
21.46
NCC-KP91R625-PUR
16.50
Roller
EZ Rolling Polyurethane on Steel
1700
NCC-KP91S625-EZPUR
23.00
NCC-KP91R625-EZPUR
19.75
Roller
EZ Rolling Polyurethane on Steel
1700
NCC-KP91S625-EZPUT
23.00
NCC-KP91R625-EZPUT
19.75
Tapered Bearing
Semi Steel
1800
NCC-KP91S625-SSR
21.24
NCC-KP91R625-SSR
16.28
Roller
6
2-1/2
Ductile Steel
3500
7-1/2
NCC-KP91S625-DSR
23.00
NCC-KP91R625-DSR
19.75
Roller
Ductile Steel
3500
NCC-KP91S625-DST
23.00
NCC-KP91R625-DST
19.75
Tapered Bearing
EZ Rolling Ductile Steel
3500
NCC-KP91S625-CDSR
23.00
NCC-KP91R625-CDSR
19.75
Roller
EZ Rolling Ductile Steel
3500
NCC-KP91S625-CDST
23.00
NCC-KP91R625-CDST
19.75
Tapered Bearing
V Groove
2000
NCC-KP91S625-VGR
22.78
NCC-KP91R625-VGR
17.82
Roller
Ductile V Groove
3500
NCC-KP91S625-DVGR
24.00
NCC-KP91R625-DVGR
20.75
Roller
Ductile V Groove
3500
NCC-KP91S625-DVGT
24.50
NCC-KP91R625-DVGT
21.25
Tapered Bearing
Phenolic
1600
NCC-KP91S625-PHR
16.00
NCC-KP91R625-PHR
11.50
Roller
Diameter
Width
Wheel
Material
Capacity
lbs
Load
Height
Swivel
Number
Swivel
Weight
Rigid
Number
Rigid
Weight
Bearing
Type
Rubber on Steel
750
NCC-KP91S630-RSR
22.78
NCC-KP91R630-RSR
17.82
Roller
Rubber on Steel
750
NCC-KP91S630-RST
23.78
NCC-KP91R630-RST
20.53
Tapered Bearing
Polyurethane on Steel
2000
NCC-KP12S630-PUR
26.96
NCC-KP91R630-PUR
22.00
Roller
EZ Rolling Polyurethane on Steel
2000
NCC-KP91S630-EZPUR
29.00
NCC-KP91R630-EZPUR
25.75
Roller
EZ Rolling Polyurethane on Steel
2000
NCC-KP91S630-EZPUT
29.00
NCC-KP91R630-EZPUT
25.75
Tapered Bearing
Heavy Duty Polyurethane on Steel
3000
NCC-KP91S630-EXR
31.00
NCC-KP91R630-EXR
27.75
Roller
Heavy Duty Polyurethane on Steel
3000
NCC-KP91S630-EXT
31.00
NCC-KP91R630-EXT
27.75
Tapered Bearing
6
3
Semi Steel
2500
7-1/2
NCC-KP91S630-SSR
22.34
NCC-KP91R630-SSR
17.38
Roller
Ductile Steel
6000
NCC-KP91S630-DSR
24.00
NCC-KP91R630-DSR
20.75
Roller
Ductile Steel
6000
NCC-KP91S630-DST
24.00
NCC-KP91R630-DST
20.75
Tapered Bearing
EZ Rolling Ductile Steel
6000
NCC-KP91S630-CDSR
24.00
NCC-KP91R630-CDSR
20.75
Roller
EZ Rolling Ductile Steel
6000
NCC-KP91S630-CDST
24.00
NCC-KP91R630-CDST
20.75
Tapered Bearing
V Groove
2800
NCC-KP91S630-VGR
24.00
NCC-KP91R630-VGR
19.04
Roller
Ductile V Groove
5000
NCC-KP91S630-DVGR
25.00
NCC-KP91R630-DVGR
21.75
Roller
Ductile V Groove
5000
NCC-KP91S630-DVGT
25.50
NCC-KP91R630-DVGT
21.75
Tapered Bearing
Phenolic
2000
NCC-KP91S630-PHR
17.00
NCC-KP91R630-PHR
12.50
Roller
Diameter
Width
Wheel
Material
Capacity
lbs
Load
Height
Swivel
Number
Swivel
Weight
Rigid
Number
Rigid
Weight
Bearing
Type
Rubber on Steel
700
NCC-KP91S825-RSR
23.00
NCC-KP91R825-RSR
18.04
Roller
Rubber on Steel
700
NCC-KP91S825-RST
24.00
NCC-KP91R825-RST
20.75
Tapered Bearing
Polyurethane on Steel
1600
NCC-KP91S825-PUR
23.00
NCC-KP91R825-PUR
18.04
Roller
EZ Rolling Polyurethane on Steel
2000
NCC-KP91S825-EZPUR
25.00
NCC-KP91R825-EZPUR
21.75
Roller
EZ Rolling Polyurethane on Steel
2000
NCC-KP91S825-EZPUT
25.00
NCC-KP91R825-EZPUT
21.75
Tapered Bearing
Semi Steel
1800
NCC-KP91S825-SSR
26.08
NCC-KP91R825-SSR
21.75
Roller
8
2-1/2
Ductile Steel
4000
10-1/8
NCC-KP91S825-DSR
28.00
NCC-KP91R825-DSR
24.75
Roller
Ductile Steel
4000
NCC-KP91S825-DST
28.00
NCC-KP91R825-DST
24.75
Tapered Bearing
EZ Rolling Ductile Steel
4000
NCC-KP91S825-CDSR
28.00
NCC-KP91R825-CDSR
24.75
Roller
EZ Rolling Ductile Steel
4000
NCC-KP91S825-CDST
28.00
NCC-KP91R825-CDST
24.75
Tapered Bearing
V Groove
2500
NCC-KP91S825-VGR
26.96
NCC-KP91R825-VGR
22.00
Roller
Ductile V Groove
3500
NCC-KP91S825-DVGR
29.00
NCC-KP91R825-DVGR
25.75
Roller
Ductile V Groove
3500
NCC-KP91S825-DVGT
29.00
NCC-KP91R825-DVGT
25.75
Tapered Bearing
Phenolic
2000
NCC-KP91S825-PHR
19.00
NCC-KP91R825-PHR
14.00
Roller
Elastomer
1500
NCC-KP91S825-ELP
18.55
NCC-KP91R825-ELP
15.50
Precision
Diameter
Width
Wheel
Material
Capacity
lbs
Load
Height
Swivel
Number
Swivel
Weight
Rigid
Number
Rigid
Weight
Bearing
Type
Rubber on Steel
900
NCC-KP91S830-RSR
23.00
NCC-KP91R830-RSR
18.04
Roller
Rubber on Steel
900
NCC-KP91S830-RST
25.00
NCC-KP91R830-RST
21.75
Tapered Bearing
Polyurethane on Steel
2500
NCC-KP91S830-PUR
26.96
NCC-KP91R830-PUR
22.00
Roller
EZ Rolling Polyurethane on Steel
2500
NCC-KP91S830-EZPUR
29.00
NCC-KP91R830-EZPUR
25.75
Roller
EZ Rolling Polyurethane on Steel
2500
NCC-KP91S830-EZPUT
29.00
NCC-KP91R830-EZPUT
25.75
Tapered Bearing
Heavy Duty Polyurethane on Steel
3500
NCC-KP91S830-EXR
31.00
NCC-KP91R830-EXR
25.75
Roller
Heavy Duty Polyurethane on Steel
3500
NCC-KP91S830-EXT
31.00
NCC-KP91R830-EXT
25.75
Tapered Bearing
8
3
Semi Steel
2500
10-1/8
NCC-KP91S830-SSR
23.00
NCC-KP91R830-SSR
18.04
Roller
Ductile Steel
6000
NCC-KP91S830-DSR
28.00
NCC-KP91R830-DSR
24.75
Roller
Ductile Steel
6000
NCC-KP91S830-DST
28.00
NCC-KP91R830-DST
24.75
Tapered Bearing
EZ Rolling Ductile Steel
6000
NCC-KP91S830-CDSR
28.00
NCC-KP91R830-CDSR
24.75
Roller
EZ Rolling Ductile Steel
6000
NCC-KP91S830-CDST
28.10
NCC-KP91R830-CDST
24.85
Tapered Bearing
V Groove
2800
NCC-KP91S830-VGR
23.00
NCC-KP91R830-VGR
18.04
Roller
Ductile V Groove
5000
NCC-KP91S830-DVGR
29.00
NCC-KP91R830-DVGR
25.75
Roller
Ductile V Groove
5000
NCC-KP91S830-DVGT
29.00
NCC-KP91R830-DVGT
25.75
Tapered Bearing
Phenolic
2500
NCC-KP91S830-PHR
21.00
NCC-KP91R830-PHR
16.00
Roller
Diameter
Width
Wheel
Material
Capacity
lbs
Load
Height
Swivel
Number
Swivel
Weight
Rigid
Number
Rigid
Weight
Bearing
Type
Rubber on Steel
950
NCC-KP91S1025-RSR
24.98
NCC-KP91R1025-RSR
22.02
Roller
Rubber on Steel
950
NCC-KP91S1025-RST
26.98
NCC-KP91R1025-RST
23.79
Tapered Bearing
Polyurethane on Steel
2200
NCC-KP91S1025-PUR
30.92
NCC-KP91R1025-PUR
25.96
Roller
EZ Rolling Polyurethane on Steel
2500
NCC-KP91S1025-EZPUR
33.00
NCC-KP91R1025-EZPUR
29.75
Roller
10
2-1/2
EZ Rolling Polyurethane on Steel
2500
12-1/2
NCC-KP91S1025-EZPUT
33.00
NCC-KP91R1025-EZPUT
29.75
Tapered Bearing
Semi Steel
2000
NCC-KP91S1025-SSR
26.96
NCC-KP91R1025-SSR
22.00
Roller
Ductile Steel
5000
NCC-KP91S1025-DSR
30.00
NCC-KP91R1025-DSR
26.75
Roller
Ductile Steel
5000
NCC-KP91S1025-DST
30.00
NCC-KP91R1025-DST
26.75
Tapered Bearing
Phenolic
2000
NCC-KP91S1025-PHR
21.00
NCC-KP91R1025-PHR
16.00
Roller
Elastomer
2500
NCC-KP912S1030-ELP
19.75
NCC-KP91R1030-ELP
16.25
Precision
Diameter
Width
Wheel
Material
Capacity
lbs
Load
Height
Swivel
Number
Swivel
Weight
Rigid
Number
Rigid
Weight
Bearing
Type
Rubber on Steel
1000
NCC-KP91S1030-RSR
22.78
NCC-KP92R1030-RSR
17.82
Roller
Rubber on Steel
1000
NCC-KP91S1030-RST
23.78
NCC-KP92R1030-RST
20.53
Tapered Bearing
Polyurethane on Steel
3000
NCC-KP91S1030-PUR
26.96
NCC-KP91R1030-PUR
22.00
Tapered Bearing
EZ Rolling Polyurethane on Steel
3000
NCC-KP91S1030-EZPUR
29.00
NCC-KP91R1030-EZPUR
25.75
Roller
EZ Rolling Polyurethane on Steel
3000
NCC-KP91S1030-EZPUT
29.00
NCC-KP91R1030-EZPUT
25.75
Tapered Bearing
Heavy Duty Polyurethane on Steel
4000
NCC-KP91S1030-EXR
31.00
NCC-KP91R1030-EXR
27.75
Roller
Heavy Duty Polyurethane on Steel
4000
NCC-KP91S1030-EXT
31.00
NCC-KP91R1030-EXT
27.75
Tapered Bearing
10
3
Semi Steel
2500
12-1/2
NCC-KP91S1030-SSR
22.34
NCC-KP91R1030-SSR
17.38
Roller
Ductile Steel
6000
NCC-KP91S1030-DSR
24.00
NCC-KP91R1030-DSR
20.75
Roller
Ductile Steel
6000
NCC-KP91S1030-DST
24.00
NCC-KP91R1030-DST
20.75
Tapered Bearing
EZ Rolling Ductile Steel
6000
NCC-KP91S1030-CDSR
24.00
NCC-KP91R1030-CDSR
20.75
Roller
EZ Rolling Ductile Steel
6000
NCC-KP91S1030-CDST
24.00
NCC-KP91R1030-CDST
20.75
Tapered Bearing
V Groove
3000
NCC-KP91S1030-VGR
24.00
NCC-KP91R1030-VGR
19.04
Roller
Ductile V Groove
6000
NCC-KP91S1030-DVGR
25.00
NCC-KP91R1030-DVGR
21.75
Roller
Ductile V Groove
6000
NCC-KP91S1030-DVGT
25.50
NCC-KP91R1030-DVGR
21.75
Tapered Bearing
Phenolic
2500
NCC-KP91S1030-PHR
17.00
NCC-KP91R1030-PHR
12.50
Roller
Diameter
Width
Wheel
Material
Capacity
lbs
Load
Height
Swivel
Number
Swivel
Weight
Rigid
Number
Rigid
Weight
Bearing
Type
Rubber on Steel
1000
NCC-KP91S1225-RSR
23.50
NCC-KP91R1225-RSR
21.00
Roller
Rubber on Steel
1000
NCC-KP91S1225-RST
25.50
NCC-KP91R1225-RST
21.00
Tapered Bearing
Polyurethane on Steel
2500
NCC-KP91S1225-PUR
24.50
NCC-KP91R1225-PUR
21.25
Roller
12
2-1/2
EZ Rolling Polyurethane on Steel
2700
15-1/2
NCC-KP91S1225-EZPUR
26.00
NCC-KP91R1225-EZPUR
22.75
Roller
EZ Rolling Polyurethane on Steel
2700
NCC-KP91S1225-EZPUT
26.00
NCC-KP91R1225-EZPUT
22.75
Tapered Bearing
Semi Steel
1800
NCC-KP91S1225-SSR
26.00
NCC-KP91R1225-SSR
22.75
Roller
Phenolic
3000
NCC-KP91S1225-PHR
21.00
NCC-KP91R1225-PHR
16.75
Roller
Diameter
Width
Wheel
Material
Capacity
lbs
Load
Height
Swivel
Number
Swivel
Weight
Rigid
Number
Rigid
Weight
Bearing
Type
Rubber on Steel
1200
NCC-KP91S1230-RSR
30.00
NCC-KP91R1230-RSR
26.96
Roller
Rubber on Steel
1200
NCC-KP91S1230-RST
31.00
NCC-KP91R1230-RST
26.96
Tapered Bearing
Polyurethane on Steel
3500
NCC-KP91S1230-PUR
36.86
NCC-KP91R1230-PUR
31.90
Roller
EZ Rolling Polyurethane on Steel
3500
NCC-KP91S1230-EZPUR
38.86
NCC-KP91R1230-EZPUR
35.61
Roller
EZ Rolling Polyurethane on Steel
3500
NCC-KP91S1230-EZPUT
38.86
NCC-KP91R1230-EZPUT
35.61
Tapered Bearing
Heavy Duty Polyurethane on Steel
4000
NCC-KP91S1230-EXR
41.00
NCC-KP91R1230-EXR
37.70
Roller
Heavy Duty Polyurethane on Steel
4000
NCC-KP91S1230-EXT
41.00
NCC-KP91R1230-EXT
37.70
Tapered Bearing
Semi Steel
2500
NCC-KP91S1230-SSR
37.30
NCC-KP91R1230-SSR
32.34
Roller
Ductile Steel
6000
NCC-KP91S1230-DSR
39.30
NCC-KP91R1230-DSR
36.05
Roller
Ductile Steel
6000
NCC-KP91S1230-DST
39.30
NCC-KP91R1230-DST
36.05
Tapered Bearing
EZ Rolling Ductile Steel
6000
NCC-KP91S1230-CDSR
39.30
NCC-KP91R1230-CDSR
36.05
Roller
EZ Rolling Ductile Steel
6000
NCC-KP91S1230-CDST
39.30
NCC-KP91R1230-CDST
36.05
Tapered Bearing
Phenolic
3500
NCC-KP91S1230-PHR
25.00
NCC-KP91R1230-PHR
20.00
Roller
Diameter
Width
Wheel
Material
Capacity
lbs
Load
Height
Swivel
Number
Swivel
Weight
Rigid
Number
Rigid
Weight
Bearing
Type