Medium to Heavy Duty Kingpinless Swivel Casters #35 Series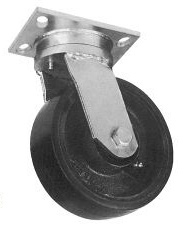 Heavy duty kingpinless caster formed with hot forged ASTM1045 Steel, eliminating problems associated with kingpin failure due to severe shock loading. Zinc plated casters feature integrally forged top plate and inner raceway. Precision machined and induction hardened sealed raceway provides exceptionally smooth performance.
3/8" diameter HRC 45 steel ball bearings absorb thrust and load in severe environments. For ease of maintenance, a grease fitting is located in swivel raceway.
Applications: Wherever severe shock loads are anticipated.
Kingpinless Swivel Caster Bearing Options
Choose the appropriate wheel bearing for your kingpinless swivel caster depending on desired use and requirements.
Roller Bearing
Delrin
Precision
Ball Bearing
Sleeve or Plain
No Bearing
Optional top plate dimensions and bolt hole Pattern: 4 x 4 1/2; 2 5/8 x 3 5/8 to 3 x 3
PLATE DIMENSIONS AND
BOLT HOLE PATTERN
Bolt Outside Dimensions
Bolt Inside Dimensions
1
4x4-1/2
2-5/8x3-5/8 TO 3x3
2
4-1/2x6-1/4
2-7/16 X 4-15/16 to 3-3/8 x 5-1/4
3
5x5-1/2
4-1/8x4-1/2
Diameter
Width
Wheel
Material
Capacity
lbs
Load
Height
Swivel
Number
Swivel
Weight
Bearing
Type
Low Profile Rubber on Steel
300
NCC-KP35S420-LRSR
6.16
Roller
Rubber on Steel
300
NCC-KP35S420-RSR
6.16
"
Rubber on Aluminum
400
NCC-KP35S420-RAR
5.06
"
4"
2
Rubber on Polyolefin
450
NCC-KP35S420-TPRR
3.96
"
Polyurethane on Polyolefin
700
NCC-KP35S420-PPUR
3.96
"
Polyurethane on Steel
700
NCC-KP35S420-PUR
6.16
"
Solid Polyurethane
700
NCC-KP35S420-SPUR
3.96
"
Polyurethane on Aluminum
700
NCC-KP35S420-PAR
5.06
"
Diameter
Width
Wheel
Material
Capacity
lbs
Load
Height
Swivel
Number
Swivel
Weight
Bearing
Type
EZ Rolling Polyurethane on Steel
700
5-5/8
NCC-KP35S420-EZPUR
6.75
Roller
Semi Steel
700
NCC-KP35S420-SSR
5.72
"
Heavy Duty Steel
900
NCC-KP35S420-SSR-HD
6.72
"
Donut Tread Polyurethane
600
NCC-KP35S420-DPRR
3.96
"
Nylon
500
NCC-KP35S420-NR
3.96
"
4"
2
Ductile Steel
1500
NCC-KP35S420-DSR
7.51
"
EZ Rolling Ductile Steel
1500
NCC-KP35S420-CDSR
7.05
"
V Groove
1000
NCC-KP35S420-VGR
6.71
"
Polyolefin
450
NCC-KP35S420-POR
5.06
"
Phenolic
800
NCC-KP35S420-PHR
5.25
"
High Temp Phenolic
800
NCC-KP35S420-PHR-HT
5.25
"
Diameter
Width
Wheel
Material
Capacity
lbs
Load
Height
Swivel
Number
Swivel
Weight
Bearing
Type
Rubber on Steel
450
NCC-KP35S520-RSR
6.16
Roller
Rubber on Aluminum
500
NCC-KP35S520-RAR
5.75
"
Rubber on Polyolefin
500
NCC-KP35S520-TPRR
4.62
"
Polyurethane on Polyolefin
750
NCC-KP35S520-PPUR
4.62
"
Polyurethane on Steel
1200
NCC-KP35S520-PUR
6.60
"
Solid Polyurethane
1000
NCC-KP35S520-SPUR
4.62
"
Polyurethane on Aluminum
900
NCC-KP35S520-PAR
5.28
"
EZ Rolling Polyurethane on Steel
1000
NCC-KP35S520-EZPUR
7.01
"
5"
2
Semi Steel
1000
6-1/2
NCC-KP35S520-SSR
7.92
"
Heavy Duty Steel
1000
NCC-KP35S520-SSR-HD
9.01
"
Donut Tread Polyurethane
900
NCC-KP35S520-DPRR
5.91
"
Elastomer
1000
NCC-KP35S520-EP
5.51
Precision
Nylon
700
NCC-KP35S520-NR
5.51
Roller
Ductile Steel
1500
NCC-KP35S520-DSR
9.25
"
EZ Rolling Ductile Steel
1500
NCC-KP35S520-CDSR
9.01
"
V Groove
1100
NCC-KP35S520-VGR
8.58
"
Polyolefin
650
NCC-KP35S520-POR
4.62
"
Phenolic
1000
NCC-KP35S520-PHR
5.75
"
High Temp Phenolic
1000
NCC-KP35S520PHR-HT
5.75
"
Diameter
Width
Wheel
Material
Capacity
lbs
Load
Height
Swivel
Number
Swivel
Weight
Bearing
Type
Low Profile Rubber on Steel
600
NCC-KP35S620-LRSR
8.75
Roller
Rubber on Steel
500
NCC-KP35S620-RSR
7.71
"
Rubber on Aluminum
550
NCC-KP35S620-RAR
6.61
"
Rubber on Polyolefin
550
NCC-KP35S620-TPRR
5.06
"
Polyurethane on Polyolefin
900
NCC-KP35S620-PPUR
5.06
"
Polyurethane on Steel
1200
NCC-KP35S620-PUR
8.58
"
Solid Polyurethane
1200
NCC-KP35S620-SPUR
5.06
"
Polyurethane on Aluminum
1000
NCC-KP35S620-PAR
6.01
"
EZ Rolling Polyurethane on Steel
1200
NCC-KP35S620-EZPUR
9.01
"
Semi Steel
1100
NCC-KP35S620-SSR
8.58
"
6"
2
Heavy Duty Steel
1200
7-1/2
NCC-KP35S620-SSR-HD
9.61
"
Ductile Steel
1500
NCC-KP35S620-DSR
9.61
"
Donut Tread Polyurethane
1000
NCC-KP35S620-DPRR
5.91
"
Elastomer
1200
NCC-KP35S620-EP
5.51
Precision
Nylon
800
NCC-KP35S620-NR
5.51
Roller
Gray Donut Rubber on Aluminum
420
NCC-KP35S620-RAR-GD
6.41
"
Gray Donut Rubber on Steel
420
NCC-KP35S620-RSR-GD
6.91
"
EZ Rolling Ductile Steel
2000
NCC-KP35S620-CDSR
6.91
"
V Groove
1200
NCC-KP35S620-VGR
10.12
"
Polyolefin
750
NCC-KP35S620-POR
5.06
"
Phenolic
1200
NCC-KP35S620-PHR
7.51
"
High Temp Phenolic
1200
NCC-KP35S620-PHR-HT
7.51
"
Diameter
Width
Wheel
Material
Capacity
lbs
Load
Height
Swivel
Number
Swivel
Weight
Bearing
Type
Low Profile Rubber on Steel
600
NCC-KP35S820-LRSR
11.75
Roller
Rubber on Steel
500
NCC-KP35S820-RSR
9.68
"
Rubber on Aluminum
550
NCC-KP35S820-RAR
7.51
"
Rubber on Polyolefin
550
NCC-KP35S820-TPRR
5.51
"
Polyurethane on Polyolefin
900
NCC-KP35S820-PPUR
5.51
"
Polyurethane on Steel
1200
NCC-KP35S820-PUR
12.11
"
Solid Polyurethane
1400
NCC-KP35S820-SPUR
5.51
"
Polyurethane on Aluminum
1000
NCC-KP35S820-PAR
5.51
"
EZ Rolling Polyurethane on Steel
1500
NCC-KP35S820-EZPUR
13.11
"
8"
2
Semi Steel
1200
9-1/2
NCC-KP35S820-SSR
13.11
"
Heavy Duty Steel
1200
NCC-KP35S820-SSR-HD
13.11
"
Ductile Steel
2000
10-1/8
NCC-KP35S820-DSR
13.11
"
Donut Tread Polyurethane
1200
NCC-KP35S820-DPRR
5.91
"
Elastomer
1200
NCC-KP35S820-EP
5.51
Precision
Nylon
1200
NCC-KP35S820-NR
5.51
Roller
Gray Donut Rubber on Aluminum
500
NCC-KP35S820-RAR-GD
6.41
"
Gray Donut Rubber on Steel
500
NCC-KP35S820-RSR-GD
6.91
"
EZ Rolling Ductile Steel
2000
NCC-KP35S820-CDSR
13.11
"
V Groove
1200
NCC-KP35S820-VGR
14.74
"
Polyolefin
1000
NCC-KP35S820-POR
5.51
"
Phenolic
1400
NCC-KP35S820-PHR
7.75
"
High Temp Phenolic
1400
NCC-KP35S820-PHR-HT
7.75
"
Diameter
Width
Wheel
Material
Capacity
lbs
Load
Height
Swivel
Number
Swivel
Weight
Bearing
Type