Light Medium Duty Casters #20 Series
Light Medium Duty Features and Options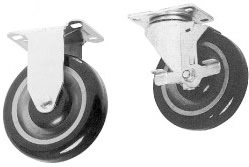 The light to medium duty casters in the #20 series feature heat treated double ball bearing raceways for added strength and resistance to wear. They are all bright zinc plated, and use a 1/2" precision kingpin. These are both economical and highly versatile, and can be built with a wide variety of wheel types to meet the needs of a wide selection of applications. Bearing options include roller bearings, Delrin bearings, precision bearings, ball bearings, sleeve or plain bearings, and no bearing. Brake options and dust covers also available. Wheel diameters include 3", 3.5", 4", and 5" wheels.
For additional information and ordering call 1-888-904-9531.
Common uses for these light-medium duty casters include material handling, bakery equipment, stocking carts, dollies, food service applications, office equipment, and anything that requires a strong, versatile caster.
Top plate dimensions and bolt hole patterns

Bolt Hole Inside
Bolt Hole Outside
1
2-1/2x3-5/8
1-3/4x2-7/8 TO 3
2
3-1/8x4-1/8>
1-3/4x2-15/16 TO 2-3/8x3-3/8
3
4x4-1/2
2-5/8x3-5/8 TO 3x3
Diameter
Width
Wheel
Material
Capacity
lbs
Load
Height
Swivel
Number
Swivel
Weight
Rigid
Number
Rigid
Weight
Bearing
Type
Soft Rubber
175
NCC-20S314-SRS
1.76
NCC-20R314-SRS
1.54
Steel Sleeve
Hard Rubber
275
NCC-20S314-HRS
1.76
NCC-20R314-HRS
1.54
Steel Sleeve
Soft Rubber
200
NCC-20S314-SRBB
2
NCC-20R314-SRBB
1.7
Ball Bearing
Hard Rubber
200
NCC-20S314-HRBB
2
NCC-20R314-HRBB
1.7
Ball Bearing
3"
1-1/4
Solid Polyurethane
300
4-1/8
NCC-20S314-SPUS
1.76
NCC-20R314-SPUS
1.54
Steel Sleeve
Semi Steel
300
NCC-20S314-SSS
1.98
NCC-20R314-SSS
1.98
Plain Bore
Polyolefin
300
NCC-20S314-POS
1.32
NCC-20R314-POS
1.1
Plain Bore
Phenolic
300
NCC-20S314-PHS
1.8
NCC-20R314-PHS
1.75
Steel Sleeve
Diameter
Width
Wheel
Material
Capacity
lbs
Load
Height
Swivel
Number
Swivel
Weight
Rigid
Number
Rigid
Weight
Bearing
Type
Soft Rubber
200
NCC-20S3514-SRS
2
NCC-20R3514-SRS
1.9
Steel Sleeve
Hard Rubber
285
NCC-20S3514-HRS
2
NCC-20R3514-HRS
1.9
Steel Sleeve
3-1/2"
1-1/4
Rubber on Aluminum
250
4-5/8
NCC-20S3514-RAA
1.76
NCC-20R3514-RAA
1.54
Annular Ball Bearing
Rubber on Polyolefin
170
NCC-20S3514-TPRB
1.76
NCC-20R3514-TPRB
1.54
Ball Bearing
Poly U / Polyolefin
250
NCC-20S3514-PPUB
1.76
NCC-20R3514-PPUB
1.54
Ball Bearing
Solid Polyurethane
250
NCC-20S3514-SPUS
1.76
NCC-20R3514-SPUS
1.54
Steel Sleeve
Diameter
Width
Wheel
Material
Capacity
lbs
Load
Height
Swivel
Number
Swivel
Weight
Rigid
Number
Rigid
Weight
Bearing
Type
Soft Rubber
200
NCC-20S414-SRS
1.98
NCC-20R414-SRS
1.76
Steel Sleeve
Hard Rubber
300
NCC-20S414-HRS
1.98
NCC-20R414-HRS
1.76
Steel Sleeve
Soft Rubber
250
NCC-20S414-SRBB
2.2
NCC-20R414-SRBB
1.9
Ball Bearing
Hard Rubber
300
NCC-20S414-HRBB
2.2
NCC-20R414-HRBB
1.9
Ball Bearing
Rubber on Aluminum
250
NCC-20S414-RAA
1.98
NCC-20R414-RAA
1.76
Annular Ball Bearing
4"
1-1/4
Rubber on Polyolefin
190
5-1/8
NCC-20S414-TPRB
1.98
NCC-20R414-TPRB
1.76
Ball Bearing
Poly U / Polyolefin
300
NCC-20S414-PPUB
1.98
NCC-20R414-PPUB
1.76
Ball Bearing
Solid Polyurethane
300
NCC-20S414-SPUS
1.98
NCC-20R414-SPUS
1.76
Steel Sleeve
Semi Steel
300
NCC-20S414-SSS
2.42
NCC-20R414-SSS
2.2
Plain Bore
Polyolefin
300
NCC-20S414-POS
1.32
NCC-20R414-POS
1.1
Plain Bore
HIgh Temp Phenolic
300
NCC-20S414-PHS-HT
1.32
NCC-20R414-PHS-HT
1.1
Steel Sleeve
Phenolic
300
NCC-20S414-PHS
1.32
NCC-20R414-PHS
1.1
Steel Sleeve
Diameter
Width
Wheel
Material
Capacity
lbs
Load
Height
Swivel
Number
Swivel
Weight
Rigid
Number
Rigid
Weight
Bearing
Type
Soft Rubber
250
NCC-20S514-SRS
2.2
NCC-20R514-SRS
1.98
Steel Sleeve
Hard Rubber
300
NCC-20S514-HRS
2.2
NCC-20R514-HRS
1.98
Steel Sleeve
Soft Rubber
275
NCC-20S514-SRBB
2.35
NCC-20R514-SRBB
2.05
Ball Bearing
Hard Rubber
300
NCC-20S514-HRBB
2.35
NCC-20R514-HRBB
2.05
Ball Bearing
Rubber on Aluminum
275
NCC-20S514-RAA
2.5
NCC-20R514-RAA
2.2
Annular Ball Bearing
5"
1-1/4
Rubber on Polyolefin
200
6-1/8
NCC-20S514-TPRB
1.98
NCC-20R514-TPRB
1.76
Ball Bearing
Poly U / Polyolefin
300
NCC-20S514-PPUB
1.98
NCC-20R514-PPUB
1.76
Ball Bearing
Solid Polyurethane
300
NCC-20S514-SPUS
2.2
NCC-20R514-SPUS
1.98
Steel Sleeve
Semi Steel
300
NCC-20S514-SSS
3.08
NCC-20R514-SSS
2.86
Plain Bore
Polyolefin
300
NCC-20S514-POS
1.76
NCC-20R514-POS
1.54
Plain Bore
Phenolic
300
NCC-20S514-PHS
1.98
NCC-20R514-PHS
1.76
Steel Sleeve
Diameter
Width
Wheel
Material
Capacity
lbs
Load
Height
Swivel
Number
Swivel
Weight
Rigid
Number
Rigid
Weight
Bearing
Type