High Temperature Casters and Wheels
High temperature casters manufactured by National Caster Corporation are designed for use in industrial and commercial high temp environments. Our casters are engineered and built to the demands of the industry. Casters and wheels for new and replacement applicatioins. Call to speak with a representative for business-to-business selections and ordering.
High Temperature Caster Applications
National Caster manufactures many models of casters for use in high heat locales. These units are ideal for bakery ovens, as well as autoclaves and powder coating rooms
High temperature glass-filled nylon wheels are well-suited for a moist heat location. At 30 minutes continuous use, 475° F is acceptable. For intermittant usage, 525° F is the recommended maximium temperature. Using glass-filled nylon in dry heat, and for higher degrees than noted will decrease the lifespan of the wheel.
A high temperature Phenolic resin wheel performs well in dry locations with an acceptable range of 30 minutes at 475° F. A Phenolic wheel designed for high heat also has an intermittant usage temperature of 525° F.
These wheels are best used on smooth floors. Higher degrees than listed and rougher floor surfaces will lessen the lifespan of high temperature Phenolic and glass-filled nylon caster wheels
Purchase High Temperature Casters and Wheels
Toll Free at
1-888-904-9531
Our experienced sales staff can assist in choosing the correct caster or wheel.
Personalized service, guaranteeing the correct caster selection
No online store with confusing structure and options.
Quick ordering with no guesswork, get exactly what you need and order with confidence.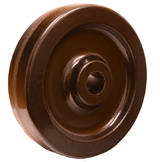 High Temperature Caster Options
Brass, roller and plain or sleeve bearings may be selected..
Caster connection types in grip ring stem, grip neck stem, top plate, and threaded stem available.
Contact our expert sales representatives to choose your caster or wheel, and to place an order by calling toll free:
1-888-904-9531
or email
info@nationalcaster.com
.