Gate Casters and Gate Wheels
by National Caster Corporation
Gate and Door Caster Applications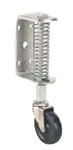 Gate and door casters manufactured at National Caster Corporation can fit the needs of any sliding, rolling, spring loaded, or cantilevered door or gate.
These specialized casters are equipped with side mounted plates, and can come with spring assemblies to prevent wear and tear on pivots and hinges.
National Caster also supplies U-Groove casters for use on rolling and sliding doors. These grooved wheels are commonly seen and used on such things as barn doors, fence gates, and garage doors.
Gate and door casters can be ordered with different mounting options, spring options, and a huge variety of wheel types to provide the best performance for your gate or door.
Purchase Gate and Door Casters
and Wheels
Toll Free at
1-888-904-9531
Our experienced sales staff can assist in choosing the correct caster or wheel.
Personalized service, guaranteeing the correct caster selection
No online store with confusing structure and options.
Quick ordering with no guesswork, get exactly what you need and order with confidence.
Contact our expert sales representatives to choose your caster or wheel, and to place an order by calling toll free:
1-888-904-9531
or email
info@nationalcaster.com
.